Cosmetic Dentistry
Detroit – Allen Park Cosmetic Dental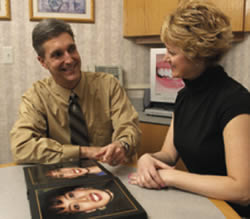 Cosmetic dentistry describes many different dental treatments that are all used to improve the appearance of your smile. Common problems Dearborn cosmetic dentists Drs. Greg and Joanne Szalai solve with cosmetic dental procedures include stained or discolored teeth, crooked or chipped teeth, gaps and missing teeth, all of which can contribute to feelings of discomfort in social situations or even smiling. It's amazing how an improved smile can increase someone's desire to interact with others.
Working with each patient, the cosmetic dentists of Allen Park Dental Care learn what the patient likes about their smile and what they hope to improve. Together, they come up with a cosmetic dental treatment plan to create "your best smile" including:
These cosmetic dentistry options and more are all available from the Detroit Michigan cosmetic dental offices of Szalai and Szalai. Be sure to look through our Smile Gallery of patients. Or set up an appointment for a cosmetic dentistry consultation today!