Finance Options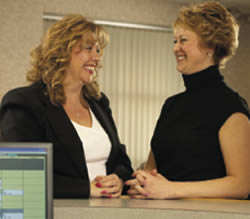 Our fees reflect our commitment to the quality of care that our patients deserve. If you have dental insurance, we will be happy to assist you in processing your insurance claims in order to maximize your benefits.
Patients with insurance benefits please note: All fees and account balances are your obligation. Once your insurance has paid, any difference is due and payable by you. If your insurance carrier has not paid within 90 days following a claim the entire balance is due and payable at that time.
In order to fit your dentistry within your budget, we offer many financial options:
Plan A – 5% Prepayment Courtesy: Total Current Financing (must be over $250) 5% Courtesy for full payment by cash or check in advance of scheduling.
Plan B – Two Payments: 50% due at the time of scheduling. 50% due at the time of your appointment.
Plan C – In-office Financing (for fees over $500): Initial payment (min. 50%) at scheduling. Payment dated for 30 days after your appointment. Payment dated for 60 days after appointment date.
Plan D – Third Party Financing (Based on Credit Approval with no pre-payment penalty): 3, 6, 12 months interest free, 18-24 months interest free, or Extended payment plans (up to 5 years).